Work Information Biography
A Grotesque Universe
Surreal Scenes between Tragedy and Comedy
Kunert's bizarre wonderlands relate stories of the depths of life. His constructions are reflections of our fears and needs, but also of our desires. They bring home the absurdity of the everyday: the grotesque attempts to organize our lives, the disappearance of old traditions, the way we deal with one another and with our history—Kunert's small masterpieces harbour any number of things. He does not however do all this with an incriminating finger, but with a subtle, at times offbeat sense of humor. Buildings say something about people. They are the expression of our culture, our past, our present, and our future. The inner worlds of homes were in invariably are reflections of social zeitgeist and contain much of what goes on inside and around us. (...) Frank Kunert lends the traces of our past an appreciative framework, and his small worlds are an unconventional declaration of love to the hosts of stories of everyday life—our stories.
Elizabeth Clarke (from an essay of the photo book Wunderland)
Kunert's Artistic Cosmos
Working slowly. Perceiving consciously. Looking closely.
Slowness is the key to Kunert's approach to developing ideas and treading creative paths. This is made possible by his craftsmanship, the time—often weeks on end—he takes to build his miniature worlds and precise studio lighting. Working with one's hands, direct experience, and exercising patience in a world growing ever faster and more abstract comes very close to possessing a museum-like quality. Layer upon layer of paint is applied to the miniature model. Once in a while a bit flakes off or the paint runs—just as in real life plaster falls off the wall, or the color of facade changes over the years. Construction errors are by all means welcome, as they allow detours and thus slow down the work process. Space opens up for carefully thinking things over and refining ideas. Improvisation is as much a part of Kunert's work as well-planned precision. In this way, Kunert's attention to detail and inventiveness get what they need: time. Thus, several layers of lovingly applied paint might turn the bottle cap of household cleanser into a trash can, salt into snow, or wads of cotton into clouds or steam; the dispenser top of a dish soap is wondrously transformed into an inlet pipe, and a doily into a curtain.
Before a small world is created, lightweight foam boards are cut. Things get glued, painted, and varnished. Floors are laid, windows installed. The odd piece of furniture or musical instrument is made. Curtains get hung. Tiles are laid, rooms furnished, roofs shingled. Trees are planted. Backgrounds and walls are painted. Which at times seems to blur the boundaries between photography and painting.
Elizabeth Clarke (from an essay of the photo book Wunderland)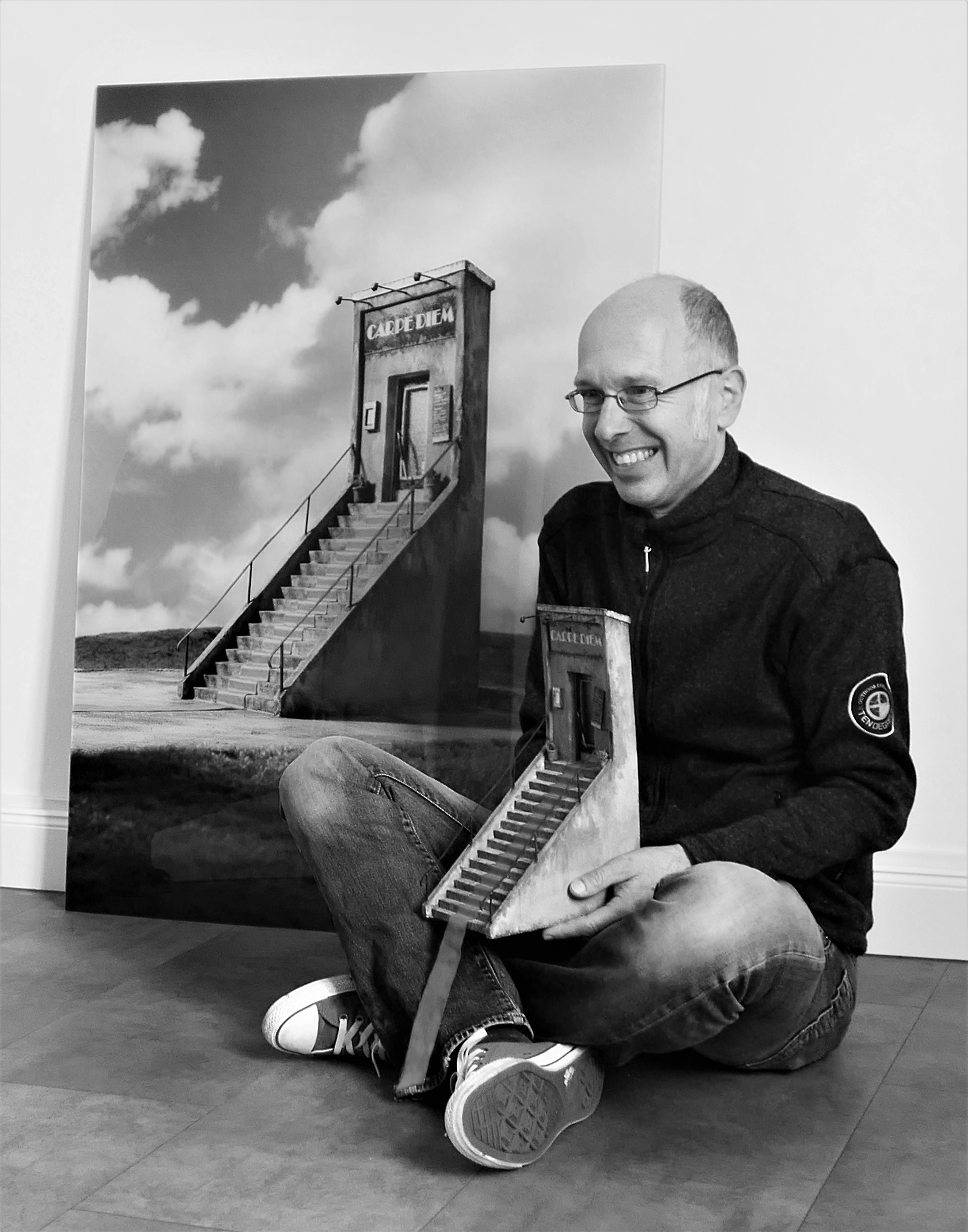 Biography
Frank Kunert (b. 1963 in Frankfurt am Main) grew up in the Rhine-Main region and started taking photographs as a teenager, when he particularly was interested in landscape photography. After completing secondary school, he trained as a photographer and nurtured his love for studio work. He remains true to this pursuit even today and his focus has been on designing and photographing miniature scenes for a long time.
His works are regularly presented at exhibitions in Germany and abroad and have been published in Spiegel special, chrismon, DU – das Kulturmagazin, Der Standard, Photonews, Barbara, smith journal, and TGV magazine, among others. The artist received several awards, including the Heinrich Zille Caricature Prize, the silver medal at the Biennial Dimensional Salon in New York and the German Photo Book Award in silver. Frank Kunert is a member of the Professional Association of Visual Artists in Rhineland-Palatinate and the German Society for Photography (DGPh). He is married and lives with his wife in Boppard, between Cologne and Frankfurt.
Exhibition History & Awards
Selected Solo Exhibitions
| | | |
| --- | --- | --- |
| 2023 | | Städtische Galerie Offenburg |
| 2023 | | Museum Boppard |
| 2022 | | Stadtmuseum Schleswig |
| 2022 | | Galerie Frye, Münster |
| 2021 | | Wandelhalle | Städtische Museen Bad Wildungen |
| 2021 | | Galerie Frye, Münster |
| 2021 | | Heimatmuseum Radeburg |
| 2021 | | Emsland Moormuseum, Geeste |
| 2020 | | Gopho | Gallery of Photography & Contemporary Art, Munich |
| 2020 | | Villa Grün | Museumsverein Dillenburg |
| 2019 | | Festival du Regard, Cergy-Pontoise (France) |
| 2019 | | Städtische Galerie Iserlohn |
| 2019 | | SATIRICUM | Sommerpalais Greiz |
| 2019 | | Dreieich-Museum |
| 2018 | | ROSEGALLERY, Santa Monica (USA) |
| 2018 | | Burg zu Hagen im Bremischen |
| 2018 | | Literaturmuseum Romantikerhaus, Jena |
| 2018 | | Galerie Z, Stuttgart |
| 2018 | | Museum Schloss Neuenbürg |
| 2017 | | Museum Boppard |
| 2016 | | Landesmuseum, Koblenz |
| 2016 | | Haus der Fotografie | Dr. Robert-Gerlich-Museum, Burghausen |
| 2015 | | Kunstverein Rüsselsheim | Stadt- und Industriemuseum Rüsselsheim |
| 2015 | | FREELENS Galerie, Hamburg |
| 2015 | | La Chambre, Strasbourg (France) |
| 2015 | | art + form, Dresden |
| 2014 | | Dreieich-Museum |
| 2013 | | Museum im Schloss Bad Pyrmont |
| 2012 | | Wandelhalle | Städtische Museen Bad Wildungen |
| 2012 | | Villa Grün | Museumsverein Dillenburg |
| 2010 | | Leehyun Seoul Gallery (South Korea) |
| 2010 | | Kunstverein Tauberbischofsheim |
| 2010 | | Galerie im Turm | Energieversorgung Offenbach AG (with Clemens Bechmann) |
| 2010 | | Galerie Hana, Königstein |
| 2010 | | Stadtmuseum Münster |
| 2009 | | Museum Haus Löwenberg, Gengenbach (with Quint Buchholz) |
| 2009 | | Atelier Gertrud Schamschula (with Gertrud Schamschula) |
| 2009 | | Projektraum EI, Aschaffenburg |
| 2008 | | Galerie Camera Obscura, Dortmund |
| 2008 | | Artbox Frankfurt, Galerie der Editionen |
| 2008 | | Kunstverein Siegen |
| 2007 | | Galerie Schloßplatz 9, Frankfurt am Main |
| 2007 | | Galerie Norbert Nieser, Stuttgart |
| 2007 | | FINEARTS.CON.TRA. City Gallery, Berlin |
| 2007 | | art + form, Dresden |
| 2007 | | Historisches Rathaus Hochstadt, Maintal |
| 2006 | | Kunst & Museum Hollfeld |
| 2006 | | KunstGenuss, Hamburg |
| 2005 | | KPMG, Frankfurt am Main |
| 2005 | | Galerie Q, Leipzig |
| 2005 | | Little Red Riding Hood Store, Berlin |
| 2004 | | Galerie am Dom, Wetzlar |
| 2004 | | Hessisches Puppenmuseum, Hanau |
| 2003 | | Galerie der Heussenstamm-Stiftung, Frankfurt am Main |
| 2003 | | Kulturzentrum Pasinger Fabrik, Munich |
| 2003 | | Showroom Gunnar Hansen, Oberursel |
| 2002 | | Kunstansichten, Mato-Fabrik, Offenbach am Main |
| 2002 | | Galerie Arts & More, Neu-Isenburg |
| 2000 | | Marcolini-Palais, Dresden-Friedrichstadt |
| 1997 | | Holzhausenschlösschen, Frankfurt am Main |
Selected Group Exhibitions
| | | | | |
| --- | --- | --- | --- | --- |
| 2023 | | magnifik | JO 21 by Galerie Z, Stuttgart | | |
| 2023 | | Ach was. Loriot zum Hundertsten | Caricatura Museum Frankfurt | | |
| 2023 | | Small Is Beautiful | The Miniature Art Museum, New York | | |
| 2022 | | CARGO | Les photographiques de Saint-Nazaire | | |
| 2022 | | Paper Art Weeks | Galerie Z, Stuttgart | | |
| 2022 | | Handwerk hat doppelten Boden | LWL-Freilichtmuseum Hagen | | |
| 2022 | | Heinrich-Zille-Karikaturenpreis | Heimatmuseum Radeburg | | |
| 2022 | | Small Is Beautiful | London | | |
| 2022 | | Deutscher Karikaturenpreis | Schloss Agathenburg | | |
| 2022 | | Gopho | Gallery of Photography & Contemporary Art, Munich | | |
| 2021 | | Deutscher Karikaturenpreis | Bremische Bürgerschaft, Bremen | | |
| 2021 | | Small Is Beautiful | Galerie Joseph, Paris | | |
| 2021 | | Museum für Kommunikation Frankfurt | | |
| 2021 | | Kunstverein Rüsselsheim | Stadt- und Industriemuseum Rüsselsheim | | |
| 2021 | | 10th Triennial of Caricature, SATIRICUM | Sommerpalais Greiz | | |
| 2021 | | Bomann-Museum Celle | | |
| 2021 | | La Chambre, Strasbourg (France) | | |
| 2021 | | FLUX4ART, Casa Tony M., Wittlich | | |
| 2021 | | Vonovia Award for Photography, Kunstmuseum Bochum | | |
| 2020 | | Galerie Z, Stuttgart | | |
| 2020 | | Stadtgalerie Bad Soden | | |
| 2020 | | Darmstadt Photography Days | | |
| 2020 | | RAW Phototriennale Worpswede | | |
| 2020 | | Kunst- und Gewerbeverein Regensburg | | |
| 2019 | | Stadtgalerie Kiel | | |
| 2019 | | Ludwig Galerie, Saarlouis | | |
| 2019 | | Kallmann-Museum, Ismaning | | |
| 2017 | | GRIMMWELT Kassel | | |
| 2017 | | Altes Rathaus, Göttingen | | |
| 2017 | | Deutscher Karikaturenpreis, Schloss Agathenburg | | |
| 2017 | | Winners & Nominees of the Felix Schoeller Photo Award 2017, Kulturgeschichtliches Museum, Osnabrück | | |
| 2017 | | Cupboard Love, Gewerbemuseum, Winterthur (Switzerland) | | |
| 2016 | | Stadtmuseum Münster | | |
| 2016 | | Literaturmuseum Romantikerhaus, Jena | | |
| 2016 | | Deutscher Karikaturenpreis, Weserburg | Museum für moderne Kunst, Bremen | | |
| 2016 | | Deutscher Karikaturenpreis, Galerie Komische Meister, Dresden | | |
| 2015 | | Wilhelm Busch - Deutsches Museum für Karikatur & Zeichenkunst, Hannover | | |
| 2015 | | Kunsthalle, Marburg | | |
| 2013 | | Künstlerhaus Metternich, Koblenz | | |
| 2012 | | STROKE.ARTFAIR, Munich | | |
| 2012 | | Musée des Beaux-Arts Eugène Leroy, Tourcoing (France) | | |
| 2011 | | STROKE.ARTFAIR, Berlin | | |
| 2011 | | Museum of Arts and Design, New York (USA) | | |
| 2011 | | Galerie Schloßplatz 9, Frankfurt am Main | | |
| 2011 | | Galerie Handwerk, Koblenz | | |
| 2011 | | Galerie im Alten Rathaus, Aalen | | |
| 2009 | | Internationale Laupheimer Fototage | | |
| 2008 | | Darmstadt Photography Days | | |
| 2007 | | Millard Sheets Center for the Arts at Fairplex, Pomona (USA) | | |
| 2007 | | Berufsverband Bildender Künstlerinnen und Künstler Frankfurt e. V. | | |
| 2006 | | Cologne Fine Art, Artbox Frankfurt, Galerie der Editionen | | |
| 2006 | | Artbox Frankfurt, Galerie der Editionen | | |
| 2006 | | 3rd Biennial Dimensional Salon, Museum of American Illustration at the Society of Illustrators, New York (USA) | | |
| 2005 | | art fair, Cologne, Artbox Frankfurt, Galerie der Editionen | | |
| 2005 | | KUNSTKÖLN, Artbox Frankfurt, Galerie der Editionen | | |
| 2004 | | Kunst & Museum Hollfeld | | |
| 2004 | | Galerie f 5,6, Munich | | |
| 2004 | | Artbox Frankfurt, Galerie der Editionen | | |
| 2004 | | 2nd Biennial Dimensional Salon Museum of American Illustration at the Society of Illustrators, New York (USA) | | |
| 2003 | | Kunstforum Säulenhalle, Groß-Umstadt | | |
| 2002 | | Kunstforum Löwenhof, Frankfurt am Main | | |
| 1998+2000 | | 3-Dimensional Illustrators Awards Show, Society of Illustrators / Museum of American Illustration, New York (USA) | | |
| 1998 | | Berliner Karikaturensommer | | |
| 1997 | | 3-Dimensional Illustrators Awards Show, Art Directors Club, New York (USA) | | |
| 1994 | | photokina, Cologne | | |
Awards
| | | |
| --- | --- | --- |
| 2021 | | Heinrich-Zille-Karikaturenpreis |
| 2020 | | Vonovia Photo Award, Shortlist |
| 2020 | | Merck Prize, Nominee |
| 2019 | | Lucie Photo Book Prize, Finalist |
| 2019 | | Felix Schoeller Photo Award, Shortlist |
| 2019 | | Design Award FORM for the memory game Kleinanzeigen |
| 2018/19 | | The Silver German Photo Book Award for Lifestyle |
| 2018 | | Silver in the category Book / Fine Art at the Tokyo International Foto Awards for Lifestyle |
| 2018 | | Bronze in the category Portfolio at the Tokyo International Foto Awards |
| 2018 | | 2nd Prize in the category Book / Fine Art at the IPA International Photography Awards for Lifestyle |
| 2017 | | Felix Schoeller Photo Award, Finalist |
| 2016 | | Deutscher Karikaturenpreis, Shortlist |
| 2013 | | The Bronze Gregor International Calendar Award for Verkehrte Welt 2014 |
| 2012 | | The Bronze Gregor International Calendar Award for Verkehrte Welt 2013 |
| 2011 | | The Silver Gregor International Calendar Award for Verkehrte Welt 2012 |
| 2010 | | 2nd place at the EVO Art Competition |
| 2009 | | The Silver German Photo Book Award for Topsy-Turvy World |
| 2006 | | Silver medal at the 3rd Biennial Dimensional Salon, New York |
| 2004 | | Kunst & Museum Hollfeld Sponsorship Award |
| 2000/1998/1997 | | Bronze Award at the 3-Dimensional Illustrators Awards Show, New York |
| 1998 | | 2nd place of the Audience Award at the Berliner Karikaturensommer |
| 1994 | | Bronze Award, Kodak Panther Work Book |
| 1987 | | Apprenticeship Certification Exam in Photography, 2nd National Winner |
TV
YouTube